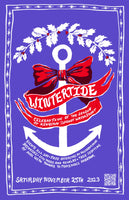 Saturday, November 25th | Support Small Businesses on The Rondout!
We are so excited to be joining the amazing businesses here on The Rondout for this year's Wintertide. The waterfront area will be celebrating the holiday season with special deals, drinks, carolers, and more! Follow @thekingstonwaterfront to learn more about the programming happening!
We will be hosting dried fruit garland making in the store from 11am - 6pm that day.
Learn More
Mending nights are BACK!
We are so excited to be bringing you mending nights again, except this time it will be hosted in our very own space! You can learn more + grab your ticket here.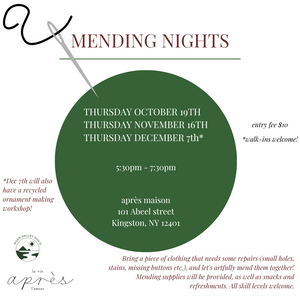 the lovebugs x après
On Friday, November 10th we sat down with Amelia Williams, the brillian mixed-media artist behind 'The Lovebugs,' an immersive experience that pulls at all your heartstrings and says what you can't.
We were so excited to collab with her on 5 one-of-a-kind lovebugs x après classic shirts, exclusively available in-store.
If you missed it, you can watch the Q+A here, moderated by Jess Kravit, founder of Exalted Alchemy + River Valley Guild. And if you see a shirt you have your eye on but can't make it to the store, slide in to our DMs.